Do you want the good or the bad news first?
Let's start with the bad…
Our much loved 2015 Picnic Races Tempranillo is…. gone…
Hey! Don't shoot me, I'm just the messenger. If you all hadn't loved it as much as you did, then it wouldn't have disappeared so quickly. Let's blame Rob… it's his fault for making such a damn fine wine!
Before I quickly move on to the good news, I should probably tell you the even worse news… we're going to be without a Picnic Races Red for a while.
I know, I know! Again, just the messenger people!
BUT, I promise you it will be worth the wait. Because our 2017 Clare Valley Cabernet Sauvignon is on its way!
Here is a little reminder of what this wine is all about from a post last year…
100 years on…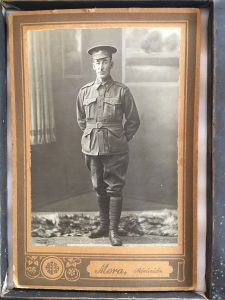 Our 2017 Cabernet Sauvignon has a special meaning for Rob. He is making it in commemoration of 100 years since the death of his grandfather, Stephen Bowd.
For those of you unfamiliar with the Somerled story, it starts with Stephen – a successful horseman. On April 20th, 1908 at the Oakbank Picnic Races in the Adelaide Hills, he rode a horse called Somerled, winning the Amateur Steeplechase by 20 lengths.
Rob never knew his grandfather. Stephen was killed in the First World War near Ypres in 1917. Rob's mother Bett, however, was most proud of the Somerled brand and the cellar door concept. She saw what Rob and his family created with Somerled as a great acknowledgment of her father, who would have enjoyed the tribute enormously.
Not all that familiar with the variety (because you've been too busy drinking tempranillo?!)? Here are some things you should know about…
cab-er-nay sau-vin-yon
The birth of Cabernet Sauvignon is thought to have occurred in 17th century France. It looks like it came about by accident when Cabernet Franc met Sauvignon Blanc! It is planted most prolifically in the Bordeaux region of Medoc. And made an appearance in Australia in 1824. Since then, it has been one of our most prolific reds.
The moderate climate regions of Coonawarra and Margaret River are globally regarded as premier Cabernet Sauvignon producers. Other regions of note include the Barossa Valley, Langhorne Creek and Clare Valley in South Australia, Mount Barker in Western Australia and the Yarra Valley in Victoria.
The most prominent Cabernet characters are blackcurrant, plum, cedar and mint. A full-bodied red with fine yet firm tannins, it's similar in weight to Merlot, Shiraz and Tempranillo. Quality examples will develop beautifully for up to 10 years or more.
If you're serving lamb, Cabernet is its favourite wine partner, thanks to the tannins, which cut through the rich, fatty meat. Hard cheeses are another classic pairing and it also matches well with dishes featuring warm, earthy spices such as Moroccan food. Avoid anything with bitterness.
Sounds like a perfect Picnic Races variety to me!
And now a few words from Rob on what has been happening in the winery (with the Cabernet and everything else)…
Winery update
Chardonnay 2018
Our 2018 Chardonnay is currently being pumped out of barrel into tank. It will then be ready for the final preparations before bottling.
The wine is looking typically "Somerled". Lots of MLF (malolactic fermentation) flavours showing, some nice almost honeyed notes on the nose, very nice weight and length. Quite gentle subtle oak.
Pinot Noir 2018
This wine is now out of barrel and needs fining plus cold stabilisation. A final filtration after that and then it's off to the bottling line.
It is quite a big wine compared with our current 2017. Dark and with an interesting combination of typical pinot noir clean lifted perfume and a background stalky note or two.
The palate is big too, and the fining should round it out nicely. Rob always likes his pinots to be round and soft, flavoursome and long.
Sauvignon Blanc 2019
Rob says that after tasting the 2018 wines, this very new vibrant sauvignon blanc really announced itself. It has a very aromatic nose. Clean and most attractive – there is such a lot of flavour in this wine.
It's not quite as low in alcohol as our usual Sauvignon Blanc, but it's soft and already well balanced. Just a final fining, acid adjustment, cold stabilisation and it's ready to bottle.
Bottling for all these wines will be in the week commencing 24th June, at Boutique Bottlers in the Barossa. So keep an eye out in the coming months for all these new wines!
Tempranillo 2019
This year's tempranillo looks wonderful – it is distinctively temp, with a savoury fruit aroma (sounds a bit contradictory Rob!) and a soft and long flavour with a blackberry or two in there! According to Rob, it's "quite delicious", and he loves the fact that its profile is quite different from our Shiraz and Pinot Noir.
Pinot Noir 2019
Equally wonderful! With such a lifted perfume. This one shows just how good Adelaide Hills Pinot can be.
Clare Cabernet Sauvignon 2017
Finally, the news we've all been waiting for. You'll be happy to hear that Rob is "suitably impressed"! The wine will be pumped out of barrel this week and then put back for a couple of months more. It will then be ready for bottling in August.
We will be able to confirm a release date after that. But given the excitement surrounding this wine, there'll be a lot of pressure to have it out there soon!
So, what are we going to do to fill this gap in our list until then, you ask?
Well, I'm happy to say I have one more piece of good news for you all before I go.
We've been doing a bit of a cleanout at the cellar bar and have found lots of interesting "bits and pieces" from our museum to show you! If that's not an incentive to come in and visit us soon, I don't know what is?!