Everybody's been holding onto the edge of their seats all vintage.
Everybody that is, besides Rob! It's his 50th vintage – nothing to see here!
2am starts, 2am finishes, midnight call-outs, checking Baumes around the clock, no sparkling, extra-stunning rose, sauvignon blanc in, chardonnay in, pinot noir in, destemming, crushing, pressing and now …
Shh ..!  A week of quiet.
What have our 'wines' (juices) been up to in their tanks?
Well, you may remember that this was what our sauvignon blanc looked like one week ago: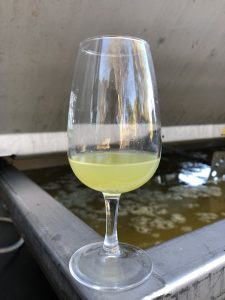 And this is what it looks like now!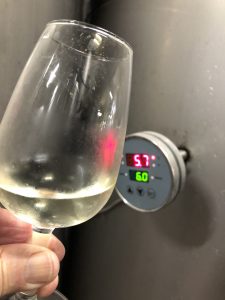 Whoah how did that happen?
Why, it did it all by itself!
We chilled the sauvignon blanc juice right down (you can see how cold it is in the photograph) to ensure that it doesn't start fermenting on its own and mess up the balance of flavours. Since then, gravity has allowed the solid material to sink to the bottom of the tank which is fantastic.
Solids in the juice give to the wine a coarseness and bitterness that needless to say Rob does not want, so for delicate wines like the sauvignon blanc, it's critical to get them out of the way as soon as possible. We can then easily rack the wine (carefully pump it off the solids and into the fermenter). Next we warm up the clear juice ready to add the yeast for primary fermentation.
Indeed we're adding the yeast to this clean, clear juice right now! In 10-12 days it will be our new, fresh, Somerled 2018 Sauvignon Blanc, complete with the beautiful aromas and green tints that Rob saw the very minute the fruit was pressed!
Want to see it in real life?
Purchase tickets now to our April event: 
Meet Somerled's Newest Wines: Rob Moody and the entertaining Hugh Armstrong pair up again, bringing you so much knowledge and behind the scenes secrets when it comes to winemaking. They'll pour these in-process Somerled wines to hold up against our current vintages and – as always – will pour a special wine for you at the end with commentary from Rob! All presented with a sumptuous platter luncheon including Manchego, terrine, pate, crusty French loaves, locally churned butter and all manner of sides. $65pp includes luncheon, book here.
April 8, 11:30-1pm, seated event.
What are our other newbies up to?
Chardonnay 2018 is on its way! Our chardonnays always differ so much in colour from the sauvignon blancs. Take a look! This shot was taken by Rob (holding the glass) a matter of hours ago. Instead of bright green tints, we have mellow golden hues. You can also see how the solids have sunk to the bottom in the chardonnay as well – great work, chardonnay juice!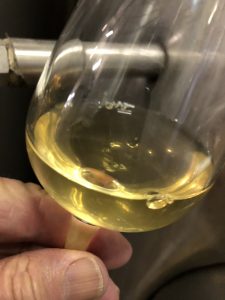 As soon as Rob started describing its "lovely rich, buttery juice" he had everyone ready to pour a glass then and there! Why wait for it to become wine? (In related news, Heather has reported that she is thus far satisfied with Rob's work on her favourite variety).
If you were to taste this juice right now, it'd be quite a bit sweeter than the sauvignon blanc because the chardonnay is picked at a higher sugar level (Baume) to create a slightly richer wine. Yeast is being added to this clean juice as we speak and it should come in around 12.7% alc/vol – as opposed to around 11.5% for the sauvignon blanc.
Pinot Heaven
And how about this pinot noir – do you recognise it? And the masterful hand that's filling the glass? This is Rob just last night, after lifting the cap on the pinot noir 2018 fermenter. Here is what a 3-day old pinot noir looks like:
It's not exactly comparable in texture to our fermenting white wines is it? A tad 'chunkier' perhaps?
We start fermenting the reds on their skins so that the juice can extract the required colour, flavour and tannin from them. The carbon dioxide produced by the fermentation has lifted the skins to the surface – it's maybe 150mm thick. The juice underneath will probably be removed Monday, as we'll have extracted all the colour and flavour we want, and it will have had its fill of nice tannin by then. It is at this stage that many may keep the juice with the skins longer, but we prefer to keep our pinot noir distinctly delicate.
We're all pretty smug about the wines this vintage (what is it about pride coming before a fall? Should we settle down?).
But we always get excited about creating a whole new family of wines each year for you to eventually place on your dinner table, share with those closest to you (only those who deserve Somerled) and to warm your soul.
Thanks for being nice to me while Maree's away … cheers for now! Lucy