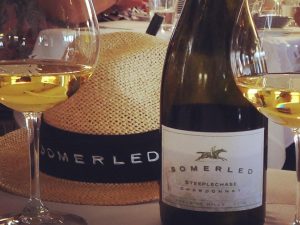 In his top three anyway…
I'm hearing a lot of "shiraz" being muttered around the room. If that was your guess, then ok, technically you'd be right… but wrong in the context of this post! Let me rephrase the question slightly… what is Rob's favourite WHITE variety?
As a matter of fact, Rob considers Chardonnay to be one of the all-time classic varieties. For him, no other variety carries flavour and texture quite as well as Chardonnay. And he loves to work with these two elements through the use of oak and malolactic fermentation.
Last week saw a pre-release of our first ever Reserve Chardonnay to our Jockey Club members. Given it's also Heather's favourite variety, we launched it on Mother's Day served with her favourite accompaniment – chicken, chips and coleslaw! And I must say… it went down a treat! According to our tasters, it was "rich and lush, but still elegant" and most importantly, "yummy".
How does Rob do it?
How does he get that balance just right between the complex richness and elegance?
Back in Rob's early winemaking days at Penfolds, Chardonnay was usually picked quite late when the fruit was very ripe. They also experimented heavily with oak in those days. What resulted was a rich, oaky wine. When people talk about not liking Chardonnay (and it's a very common complaint), these old-style Chardonnays are usually all they know of the variety.
What Rob prefers to do now is to pick the fruit nice and early and not go too heavy on the oak. This produces a complex and rich wine with butterscotch and caramel notes, but with a lovely fresh acid running through it form the early picked fruit. Divine! And yes, we have converted some of those Chardonnay-haters!
The Reserve Chardonnay does have more oak – Rob left it in some newer barrels for longer than he normally does. It's certainly a bigger, richer wine that our regular Chardonnay, but with that lovely early picked fruit it still retains that lovely elegance.
Give us a call, send us an email or pop in to get your bottle of this sensational wine ($75 for club members; $90 if you're not a Jockey Club member) – I guarantee you will not be disappointed.
What about unoaked chardonnay?
Rob doesn't have an issue with unwooded Chardonnay – he's just never tasted one he likes!
Want to challenge Rob? If you know of a good unwooded chardonnay, let us know in the comments below and we'll track it down for Rob to try. We'll get back to you with his thoughts!
What else can you tell me about Chardonnay?
Chardonnay first came to Australia in the 1920s. It is planted in virtually every region and makes a wide variety of wine styles from light-bodied, crisp and unoaked through to full-bodied, complex barrel matured versions.
It can be grown successfully in climates ranging from cool to warm. Cool climate versions tend to be lighter in body with higher acidity and more subtle flavours. Warm climate versions tend to be more full-bodied with richer, riper fruit and bolder flavours.
For example…
Adelaide Hills
The undulating and sometimes very steep aspects combined with average altitudes over 400 metres means that Adelaide Hills is the coolest region in South Australia
This region is ideally suited to the production of complex Chardonnay
The wines are typically textured with peach and citrus flavours
Margaret River
Margaret River has established itself as one of Australia's premier Chardonnay producing regions
The warm climate is tempered by the effects of the Indian and Southern Oceans
The style is typically concentrated, rich and complex with typical lime-like acidity
Mornington Peninsula
The cooling effects of the ocean are felt throughout the Mornington Peninsula
The cool climate is ideal for the production of pure-fruited, restrained Chardonnay
Creates medium-weight wines with delicate flavours of melon, white peach and citrus
Yarra Valley
The Yarra Valley has a diverse array of microclimates and vineyard aspects which impacts Chardonnay's style
Elevated vineyards sites allow for a restrained and subtle style
Diverse characteristics but typically medium-bodied, textured wines with signature flavours of white peach
(reference: Wine Australia)
Where does your second favourite Chardonnay come from? (because of course your favourite is ours!)
Does Heather drink anything other than Chardonnay?
Rarely! Although, I have seen sparkling in her glass on a special occasion! In true Heather style though, you will always hear her saying "I'll just have a half" when placing her order at the bar. I will neither confirm nor deny if she returns for another "half" (or two)!
In truth, Heather will drink Chardonnay and only one other Somerled wine in preference over anything else. There is another variety she favours, but until the winemaker bends under the pressure of Heather's regular requests to make another, there are only two Somerled wines you will regularly find in her glass. Can you guess what that second Somerled wine is? What about the variety she has been pestering Rob to make another of? We have a bottle of Heather's favourite up for grabs for anyone who can guess both of these wines correctly!