Shall we just get the bad news out of the way first?
We're all out of 2016 Sparkling Pinot Noir…
With the exception of a handful of bottles we've stashed away to keep us going at the Cellar Bar for a few more days.
But after that, we'll all be set to move onto our 2017 vintage. And luckily for us, the 17 is very similar to the 16. Rob is so excited about the 17 that he's not even saving any of the 16 in his own collection!
There is a teeny tiny problem though…
The 2017 Sparkling won't be ready for another couple of weeks.
This means that there could be a few days there where I have to have something else as an after-work drink! Oh, and you may have to order a glass of Sauvignon Blanc or Rosé (or any of our other amazing wines!) if you visit us before the end of November.
"Hold on a minute… did you say Rosé?!"
Yes, indeed I did!
And this brings us to the very, VERY good news…
Somerled 2021 Pinot Noir Rosé
It's back on the list and ready for your glass! Yippee!
And this is what Rob has to say about it…
"Well, here it is at last! Our 2021 Pinot Noir Rose – from Paul Henschke's wonderful vineyard near Summertown. As usual, the fruit was in great condition. The sugar level was quite low at just under 12 Baumé and the acid quite high – perfect for Rosé production. The fruit was hand-picked and stored overnight in the cold room before loading direct into the press. The pressed out juice was pale and soft; it was settled, racked and yeast added to commence fermentation. So far, so good. Fermentation went really well – until just near the end when there was just a small amount of sugar remaining to ferment, the yeast decided it would give up! It happens sometimes, fortunately not very often. It took literally months to get the ferment going again and to get to completion. Malolactic bacteria were added to start the secondary fermentation, and unlike the first one, this fermentation went through very quickly. The end result is great – pale, beautifully coloured rosé, with bright berry aromas and a dry, soft palate with long elegant flavours and a crisp finish – perfect!"
It's been quite a journey, but I promise you it is definitely worth the wait!
And while we're talking Rosé, should we do a quick recap on what it is and how it's made?
I think we should!
If there are a million ways to make a red wine, there are a billion ways to make a rosé. (Fact). Why?
Firstly, you can use ANY red wine grape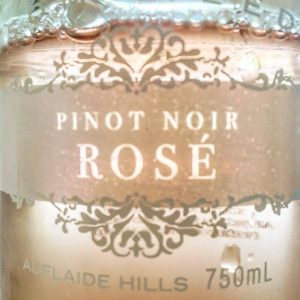 In Australia, the more common varietals used to make Rosé include shiraz, pinot noir and grenache. But also, merlot and cabernet sauvignon. Rob has used sangiovese to great effect in the past, but he absolutely favours that gorgeous perfume of pinot noir. Each carries its own flavour profile – cherry, perfumed, mulberry – just like the big reds.
Secondly, there are several ways to make it
Blending
Mix a red and white wine together and what do you get? A crudely made and not necessarily fabulous tasting rosé! This method is generally frowned upon.
Saignée ('san-yay') method
Rosé can also be made using the Saignée, or 'bleed' method. This involves 'bleeding off' a portion of the juice into a separate vat to finish fermentation. The remainder goes on to make red wine.
Maceration
When making big red wines, winemakers will crush, press right down and leave that juice on skins for days. They want maximum flavour, tannin and colour.
To make a rosé in this way, you simply need to leave it 'on skins' for a shorter period of time. But how long? Rob likes his Rosé fine, soft and pale – so he can't have it pressed for too long or there will be too much tannin in the resulting wine. It is only ever in contact with the skins for a couple of hours. Others like to press for ages (up to 24 hours) and come up with a darker, more tannic version.
Thirdly – sugar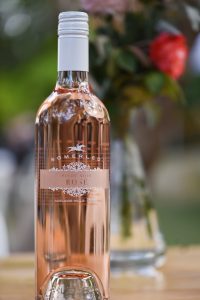 Rob ferments his right down so it's bone dry, like the French. But with rosé in Australia, there has been a longstanding trend to stop fermentation before it finishes so that not all sugar is fermented – and you are left with a sweeter wine which can be appealing to some drinkers.
The permutations in the way these three aspects can be approached are endless. Of course .. if you'd like to try a version with Adelaide Hills Trophy Winning Heritage .. best order some of ours! (Shameless) (But true).