Today, Rob dropped into the Cellar Bar after a visit to the winery. I took the opportunity to pin him down for a update…
(Oh, and I did have a quick sip of some barrel samples he brought in. But more about that later)
Along with the usual update he let slip some very interesting news!
Especially if you were a fan of our sherry…
Remember our sherry??!
No?? Well, once upon a time, Rob made a dry-style sherry.
It was very popular and even managed to earn itself a very positive write-up by Max Allen in the Australian Financial Review (Nov 27, 2019)…
How clever is Rob??!
CORRECTION
Sherry is a fortified wine made from white grapes grown near the town of Jerez, in Andalusia, Spain. What you may not know though is the name 'Sherry' is actually an anglicisation of 'Jerez'.
So, although I've said it five times already (and we're still in the introduction) plus used it in the title of this post, we're not allowed to call it that. Just like we can't call Australian sparkling wine 'Champagne'.
So, some bright spark came up with the oh-so-catchy name "Apera".
And boy, hasn't it caught on (said no one ever)!
Anyway, back to Rob and his sherry – I mean, apera.
It turns out he's giving it another go!!
He tracked down a couple of tonne of palomino grapes last vintage and he's in the process of making his second batch of sh-apera!
How is apera made?
After primary fermentation of the base wine, apera is fortified (simply meaning to "add spirits to wine"). Because the fortification takes place after fermentation, most sherries are initially dry, with any sweetness being added later.
What makes apera so unique is the use of flor yeast. After standard white winemaking procedures, the wines are transferred into barrels, which are only partly filled. The wine in each barrel is then seeded with a special yeast (flor yeast) and stored for several years. Because the barrels are only partly filled, the wine's upper surface is exposed to air – providing ideal growing conditions for the flor yeast. As the yeast grows it forms a film across the surface.
The solera system
Another unique feature in the production of apera is the use of a solera system. Barrels of wine are arranged in a pyramid-like stack with the youngest wine in the top layer and the oldest wine in the bottom layer. At bottling time, the wine to be bottled is removed from barrels in the bottom layer of the solera, taking only a small portion. Then each cask is refreshed from the layer above. This results in a progressive mixing of young wine with older wine, a process known as 'refreshing the wine'.
And this is exactly what Rob will be doing with his (on a much smaller scale). See, he still has some of his original apera sitting in a barrel "out the back" at the Cellar Bar. He deliberately kept this aside so he could start his own mini-solera. Once this year's apera is finished he'll use it to "refresh" his original batch.
And yes, he'll then share it again with you!
Styles
Apera comes in a variety of styles… most of which we also can't mention for locally made versions! For your information though, there are a couple of useful tables to describe the varieties of Spanish sherries below…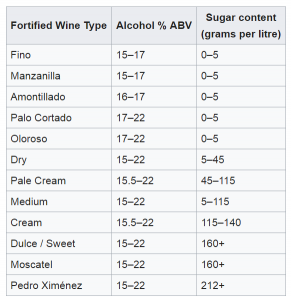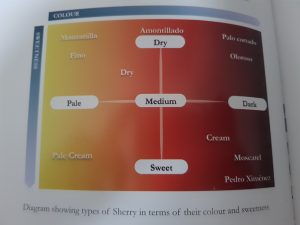 To try some of these varieties side by side (and to understand how they can be paired with food), Seppeltsfield in the Barossa offers a great tasting.
Rob obviously favours the dry end of the spectrum. Although we can't describe HIS as this… if he had made it in Spain from grapes grown in Jerez then it would definitely be a Palo Cortado.
I can't wait to bring you more news of this exciting development!
Loving our blog? Sign up for weekly updates straight to your inbox…
Other interesting stuff I learnt today…
You know what?
I have so much interesting winery news to tell you.
But, I think I might hang onto it until next week! Until then…